CLIENTS
Clients include Intel, VMware, and many entrepreneurs and CEOs of start-ups

METHOD
The method is illustrated below, and Senia would be happy to discuss it in detail: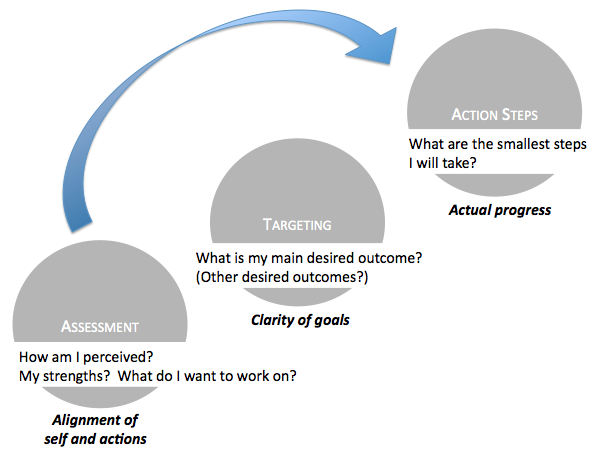 SAMPLE RESULTS
CEO of a Technology Company developed and implemented a succession plan
VP at a Finance Company received the highest bonus of any VP and job offers at three competitors
CEO of an Architecture Company brought in more new business than expected, primarily as a result of the productivity boost from coaching
SENIA'S COACHING
"Senia's enthusiasm and willingness to support innovative entrepreneurs and concepts is a joy to experience first-hand…." ~ A. Fernandez

"Senia has been a great guide and mentor to me in starting NumeSpot. Every conversation and exchange we've had has left me feeling both more settled in my approach and more energized by the challenges. She is a gifted listener and highly intuitive. She is also incredibly bright. I recommend her enthusiastically." ~ M. Felberbaum

"Her strength is in her ability to explain the complex in plain and useful terms. She helped me understand non-linear regressions! She's brilliant, approachable and ever-so-likeable. Senia is one in a billion! She has the whole package: brains, heart and a contagious zeal that is priceless." ~ L. Jacobson
VIDEO OF SENIA MAYMIN COACHING
Senia Maymin as the expert coach on PBS's This Emotional Life (2 minutes):


COACHING NETWORK
Senia Maymin runs a coaching network of coaches that specialize in two areas:
* RESEARCH-BASED. Knowledge and implementation of cutting-edge research and results
* ACTION-FOCUSED. Action-focus and having the client take specific, challenging actions in between coaching sessions

If you are an organization that wants coaching for 5 or more members of your team, email [email protected]
A current coaching network engagement includes 35 people managers being coached.
HOW TO CONTACT SENIA MAYMIN FOR COACHING
Email us at [email protected]