I went to see the Dalai Lama on July 17, 2008 at Radio City Music Hall in NY. It was completely packed, and the room has 5,933 seats. It seemed that about one third to half of the women, men, and children in the audience were dressed in Tibetan formal wear – beautiful attire in exquisite print.
I was sitting in a good seat, part-way to the front, and as soon as the Dalai Lama let us know that that he would be answering some audience questions, I thought that since I had read most of his book on happiness, I would love to hear his impromptu thoughts on what makes him happiest. So I wrote on a piece of paper a question in large capital letters and gave it to a man collecting questions near our aisle.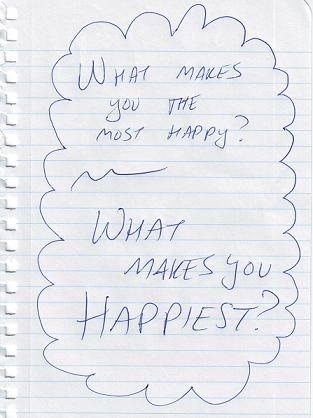 Then many, many pieces of paper were brought to the translator's desk on the stage. I don't know how many from about 6,000 people. It looked like a lot of pieces of paper, and I absolutely didn't think my question would be answered, but eventually after the first two questions – one of which included a detailed answer to 'who are the protesters outside the event?' – my question did come up. It was the third question out of four, and it was really delightful to hear the Dalai Lama's answer.
Here is the question: "What makes you happiest? What makes you the most happy?"
The Dalai Lama's answer was first a joke along the lines of "I don't know." And then he answered: "People make me happiest." He pointed to the audience and to himself, and said that he thinks this kind of interaction – people speaking to each other – makes him happiest. He said it is "only 'I,' not 'we-them,'" implying that everyone – himself and the audience – are part of the same "I."
Then he ran through several additional things that make him happiest:
• Sleep – He actually stayed on this topic for a few minutes, describing how he goes to bed around 7pm every evening, and wakes up at 3:30am to be able to meditate before a 5:30am breakfast. He even joked about how his brother makes fun of him for such an early wake-up.
• No dinner after lunch – The Dalai Lama was quite firm about how he enjoys not eating in the evening after the mid-day meal. He said, "It's good. I don't get fat like man who looks like woman with baby [pregnant woman]." He mentioned that he always feels very hungry when it is time to eat.
• Vegetarian preference – Finally, the Dalai Lama mentioned that he prefers a vegetarian diet, and that he was vegetarian in 1965 for 20 months, and that he is now mainly vegetarian.