"Living well and beautifully and justly are all one thing."
~ Socrates
I was just thinking about that this week.
---
I was talking with a friend about how with some people you just seem to feel comfortable. Around your good friends, around people with whom you can throw about ideas. What is it, this feeling of comfortable? If you ask, "what does it mean when you're comfortable around someone?", you'll hear things like "It's like being yourself," "It's like not thinking," "It's relaxing," "It's not stressful."
Have you ever been in a work situation in which you felt that you were both the person who was in the meeting, answering the questions, giving the presentation – and at the same time that you were also the person observing all this from the side, seeing people's reactions, sensing the vibe in the room? Do you know that feeling in which you're both doing something and observing yourself doing it? It's almost as if there were two of you. It seems to take two different brain processes to be doing something and to be on the lookout for how it's going. And research shows that having both processes run at once uses a lot of your psychological resources.
Research shows that emotional-cognitive processing expends a lot of resources in a person. What do I mean by that? If the emotional signals that a person is getting are not in line with the cognitive signals, then it takes a lot of the person's resources to balance the two inputs. It's uncanny that it takes that many resources to figuratively both tap your logical head and rub your emotional stomach. But at the same time, we shouldn't be surprised: it's that emotional-cognitive unbalancing that is often the cause of miniature stressors that can turn into major stressors.
(In fact, if you think about babies and toddlers, in toddlers, you visibly see new tricks all the time – a new word, or a new physical ability whereas with babies of less than a year old, you'll see fewer physical new tricks. But just think of all the different types of balancing that are going on inside their heads. Think of how a baby (and even a toddler for that matter) needs to balance the emotional and physical and thinking and seeing and other processes especially when it's not yet clear to babies what is in balance and what is out of balance.)
So, in short, being comfortable is not needing to watch what you do while you're doing it. Being comfortable is not playing both roles at once – the actor and the observer. (Likely similarly to not writing and editing at the same time – first writing to get the content out, and then perhaps later editing to make it pleasant to read). For example, think of how you feel if you're practicing delivering a presentation in front of a mirror: you are at that point focusing on the delivery and not the content. Now think of yourself talking within a group of people or talking to one other person. Comfortable is when you can focus more on what you're saying than on the possible reactions of that group or of that person.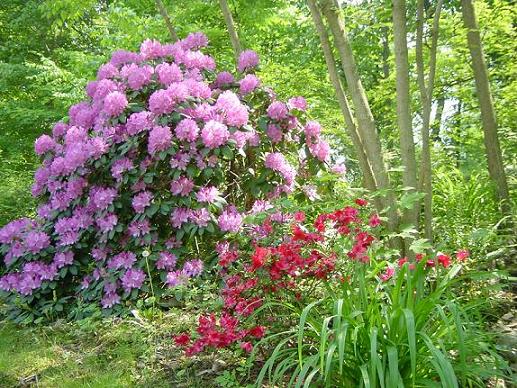 Comfortable is always knowing that you'll have a mulligan with this friend or with this group.
COMFORTABLE, a definition
Take-away: Comfortable is when you can focus more on what you're saying than on how you're saying it.
---
This is an expression that my friend Margaret really likes to use, "We are human beings, not human doings."
RECONCILING BEING AND DOING
But maybe sometimes we are human doings. There's a wonderful brief blog entry by Jeanie Marshall about how people can act both in ways of achieving and reaching for their goals and in ways of allowing and taking in what's around them without strain. Jeanie says, "At a very early age, most of us are taught to go after the things that we really want. We are often told that the willingness to fight is the indication that something is worthwhile. To fight, compete, and achieve are lifted up as important values. … If you have had such a cultural conditioning, it can come as a real shock to hear that what you need to do is "allow" or "be in the flow" or "relax." These can seem like really soft or surreal ideas if you have proven yourself by doing things, by taking charge. … In my view, it is not such a paradox. Perhaps that is because I do not advocate replacing outward action with inward reflection; I am advocating a balance."
To me, there's something very soothing in the cadence of her words. Plus, what she says is a nice way to resolve the duality of the human beingness and the human doingness: you can have both. She continues, "Being, allowing, being in the flow, and opening are qualities that help you to remember and provide balance for doing whatever you do. Doers already know how to do; doers need to learn how to be, in order to recognize their wholeness. If every breath is only an out-breath, there is no in-breath to provide more air to sustain the next breaths."
Martin Seligman, known as the father of Positive Psychology, says in his Authentic Happiness that one of the most powerful ways to increase happiness in the present is to savor more, to more fully enjoy the moments of life. Since so many lives are about action and activity, what are the ways that we can slow down and savor?
FOUR WAYS TO SAVOR
Fred Bryant has done research on savoring and writes that there are four different ways that people savor, that people enjoy the moment. And several of these may appeal to you greatly. (I learned about this theory of savoring from Karen Reivich, who heard Bryant present this four-types model in a talk). Everything in life is personal, including how you like to enjoy your downtime.
You can keep a brief log for the next two days to see when you are enjoying the moment, in which of these four ways are you really enjoying it? Are you …
* Basking: Receiving praise and congratulations
* Thanksgiving: Experiencing and expressing gratitude
* Marveling: Losing self in the wonder of the experience
* Luxuriating: Engaging one's senses fully
Here's a visual interpretation: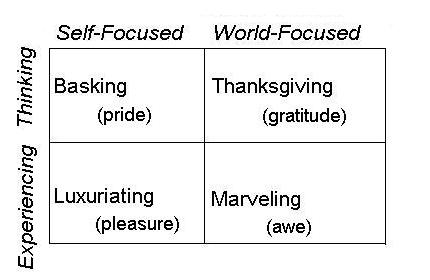 For example, enjoying the fresh salad during dinner is …
luxuriating
,
looking at the sunset can be …
marveling
or
luxuriating
, or even
thanksgiving
,
hearing someone compliment your cooking and saying "thank you" is …
basking
,
seeing a little child smile at you can be …
thanksgiving
.
Karen Reivich states that when you separate savoring out this way, you have a range of possibilities to choose from. It's like deciding on a mild sage green for a paint color for the bedroom, as opposed to forest green or swamp green. You're more in control of how you perceive savoring when you start to break savoring out into its components. And according to Diener and Myers, personal control is one of the four main components to happiness.
It's like having a peacock's tail of possibilities to choose from.
Sources:
Bryant, F. (1989). A Four-Factor Model of Perceived Control: Avoiding, Coping, Obtaining, and Savoring, Journal of Personality 57:4, 774-797.
Bryant, F. (2003). Savoring Beliefs Inventory (SBI): A scale for measuring beliefs about savoring, Journal of Mental Health, 12, 2, 175-196.
Myers, D. G., & Diener, E. (1995). Who is happy? Psychological Science, 6, 10-19. "In study after study, four inner traits mark happy people: self-esteem, a sense of personal control, optimism, and extraversion."
---
John: "Hi, how goes?"
Mary: "Good. The weather seems to be nice today."
John: "Yes, it sure is a good day. Did you see the rhododendrons blooming along Salem Road?"
Mary: "Yes, they looked really nice, really fresh. … I think it might rain tomorrow."
John: "Really, you think so?"
Mary: "I think I heard that on the radio."
When I was a teenager, I distinctly remember thinking, "How boring. How boring! How BORING! How could people talk so much about the obvious!? Hello! I mean, yes, ok, the weather is nice, the flowers are blooming, yes, it may rain. Let's get on with it. Let's debate something. Let's agree, let's disagree, let's find out why things are happening!" (Yes, I actually probably did think in terms of "Let's debate something.")
And now, I have COMPLETELY CHANGED MY MIND. Not even a little bit, not even a tiny bit, but a huge large, definitely, very large, very very large bit.
It has to do with living in the moment. What I once had thought was boring, I now think is so nice. So nice. Some of my favorite times are with friends – after we've caught up on this and that and this and that, and we're just lying on the beach, in all our clothes, on the little washed-up shells, with the sun against our faces (probably commenting about how clear the sky is and how warm the sun feels). Or sitting on the couch in the evening with the music on and just saying how mellow the flutes sound. So simple. So good.

---
Here it is, simple and real:
When you say something good to someone, DO NOT put in anything bad.
That's it. That simple. When you're saying good things, keep them good! That's all. How simple is that?
It frustrates me to no end to hear…
… in the office, "What you did was superb, wonderful, but I just wish you did it all the time."
…as a couple, "You really matter so much to me, and what you did by coming to my graduation instead of to that conference really matters. I don't even mind it so much that you've missed my last two chamber performances. Thank you."
…to a friend, "That outfit looks really good on you. And much better than that thing you wore to the charity gala, remember that?"
…with children, "You make me really proud of you. Two A+'s in one week, and a great note from your math teacher! You really should just straighten up in your room a little more."
There is no high! There is no benefit when you mix the message. What am I saying? That the messenger should be killed? Well, no, ok, I'm not going that far. I'm just pointing out that good combined with bad is semi-good/semi-bad. Here's the math:
1) good + good + good = good (three pieces of great news or three compliments… together the result is good)
2) bad + bad + bad = bad (three insults…together make a large insult)
3) good + bad = bad (good and bad… together that's bad)
4) good + good + good + good + good + good + good + bad = bad (n number of good things and one bad thing … together the result is somewhat bad)
Why do I feel so strongly about this? Because the brain remembers bad things more easily than it remembers good things. In the fourth example, the brain overweights the bad. That's just how brains work. It has to do with being on the lookout for danger in the caveman era. If you don't see the dangerous animal once, you're gone. If you don't always observe the butterflies in the sunshine, you're still ok, you live. Continue reading
---